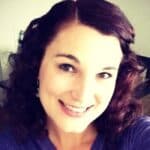 Sarah Cathers
Spouse:  David
Children: Ruth
In Christ since: 1999
At Calvary Fullerton since: 2012
Favorite thing about Calvary Fullerton: the feeling of community and the kiddos.  Everyone is so friendly and welcoming; I never really felt like "the new girl" for very long.  And the kiddos (of all ages) are so fun to be around – just seeing their love for the Lord makes my days better.
Hobbies: cross-stitching, watching movies, and drinking coffee.
Favorite Ice Cream: Baskin Robbins Jamoca (coffee flavor) with chocolate fudge drizzled on top.
Email Sarah at sarah.cathers@calvaryfullerton.org