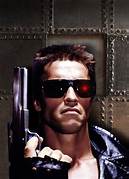 This week's Pastor to Person was written by Pastor Caleb Beller.
[2Th 2:1 NKJV] 1 Now, brethren, concerning the coming of our Lord Jesus Christ and our gathering together to Him, …
The phrase, "I'll be back" has become a part of popular culture since the 1984 movie Terminator with Arnold Schwarzenegger. Many of us have tried to recreate the accent and demeanor while walking out the door for work or some random tasks. Paul, throughout his letters to the Thessalonians, uses the term "Parousia" to describe Jesus' return. In Greek and Roman cultures this suggests the arrival of a ruler at a palace. Or the triumphal entry of a general returning from battle.
Chapter two not only reinforces this truth of the return of Jesus, but it gives us a glimpse of the events that will precede His arrival. Paul tells us he is writing to comfort those who thought they missed Jesus' return! Next Paul lays out some significant signs that can't be missed before Jesus comes back!
First is an "apostasy" a falling away, a moving away from truth. Next Paul says this will culminate in the rise of the anti-Christ. This false Jesus will be given power by Satan to do signs and wonders. Those who want to reject the truth will be drawn to this false Christ. They will be given over to a delusion. Paul implies that there will be a removing of the "restraining force" that is currently holding back these powers. This season will reveal the true motives of people's allegiance, those who love Truth and hold to the gospel, and those who take pleasure in wickedness.
While many may want to guess who this anti-Christ will be, Paul says that he will be consumed and destroyed by Jesus' breath and the glory of His arrival. Paul's focus is not on who the antichrist is but on Jesus Christ! Let's remember today, that His return is closer than it has ever been. The world is getting darker, and people's hearts are getting harder. People are drifting away from truth. So, what should we do? (15) Stand fast, hold onto truth, and preach the gospel! Are you ready? Is your family ready? He will be back!